copiers-mfps
More Info
Sharp MX-3071
30 ppm B&W and Color networked digital MFP
150 sheet duplexing single pass document feeder
500 GB hard disk drive
Automatic walk-up motion sensor
Available manual stapling and stapleless stapling
Award-winning customizable touchscreen display with easy-to-view tiles
Leading-edge security with End-of-Lease feature
PCL®6 and Adobe® PostScript® 3™ printing systems
Universal Print from Microsoft®
Standard wireless connectivity for easy placement and mobility
Built-in retractable keyboard for easy data entry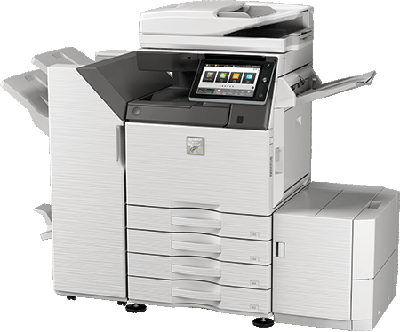 More Info
Sharp MX-C304W
30 ppm B&W and Color networked digital MFP
500 GB hard disk drive
Award-winning customizable touchscreen display with easy-to-view tiles
Leading-edge security with End-of-Lease feature
PCL®6 and Adobe® PostScript® 3™ printing systems
100-sheet duplexing single pass document feeder
Built-in Optical Character Recognition (OCR) can convert scanned documents to text searchable PDF format, Microsoft Office file formats and others
Built-in wireless connectivity for easy placement and mobility
Scan and print files easily from mobile devices with Sharpdesk Mobile
Standard direct printing of Microsoft® Office file formats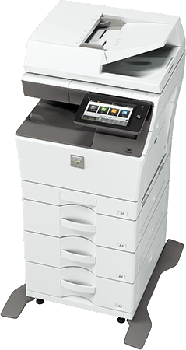 More Info
Sharp MX-C407F
40 ppm B&W and Color networked digital MFP
Out-of-the-box copy, print, scan and fax capability
50-sheet reversing single pass document feeder
Optional 500 GB hard disk drive
7-inch touchscreen display with easy-to-view tiles
PCL®6 and PostScript® 3™ printing systems
1,200 x 1,200 dpi print resolution
Leading-edge security keeps your information safe
Scan and print files easily from mobile devices
Standard direct printing of Microsoft® Office file formats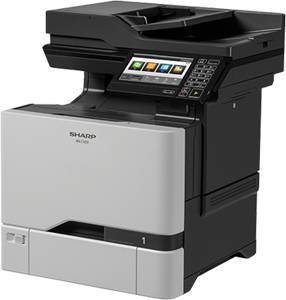 More Info
Sharp MX-M3071
30 ppm B&W networked digital MFP
150 sheet duplexing single pass document feeder
500 GB hard disk drive
Automatic walk-up motion sensor
Available manual stapling and stapleless stapling
Award-winning customizable touchscreen display with easy-to-view tiles
Leading-edge security with End-of-Lease feature
PCL®6 and Adobe® PostScript® 3™ printing systems
Universal Print from Microsoft®
Standard wireless connectivity for easy placement and mobility
Built-in retractable keyboard for easy data entry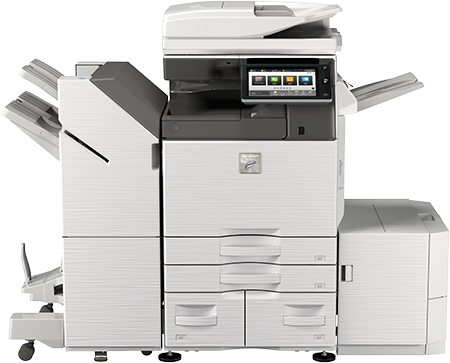 More Info
Sharp MX-B376W
37 ppm B&W networked digital MFP
50-sheet reversing single pass feeder
500 GB hard disk drive
Award-winning customizable touchscreen display with easy-to-view tiles
Leading-edge security with End-of-Lease feature
PCL®6 and Adobe® PostScript® 3™ printing systems
Standard wireless connectivity for easy placement and mobility
Built-in Optical Character Recognition (OCR) can convert scanned documents to text searchable PDF format, Microsoft Office file formats and others
Scan and print files easily from mobile devices with Sharpdesk Mobile
Standard direct printing of Microsoft® Office file formats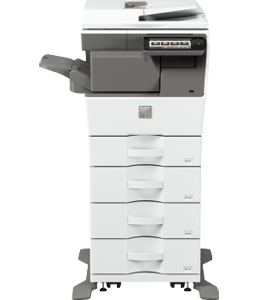 More Info
Sharp MX-C507F
50 ppm B&W and Color Networked digital MFP
Out-of-the-box copy, print, scan and fax capability
50-sheet reversing single pass document feeder
500 GB hard disk drive
7-inch touchscreen display with easy-to-view tiles
PCL®6 and PostScript® 3™ printing systems
1,200 x 1,200 dpi print resolution
Leading-edge security keeps your information safe
Scan and print files easily from mobile devices
Standard direct printing of Microsoft® Office file formats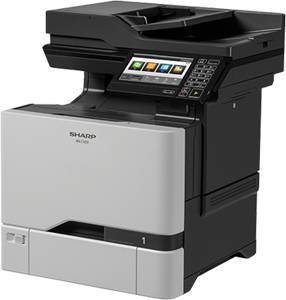 More Info
Canon MF-445dw
Usability
5" intuitive color touchscreen with smartphone-like usability.
A unique, customized device experience with Application Library.
Create Wi-Fi® Direct hotspot from the printer to establish direct connection to compatible mobile device(s) without the need for an external router.
Quality and Reliability
Canon's signature reliability and engine technologies help keep productivity high and minimize the impact on support resources.
Intuitive maintenance videos for common tasks like consumables replacement.
Designed to achieve maximum uptime with status notifications to help keep supplies replenished.
Workflow Efficiency
Supports mobile solutions for printing and scanning4.
Scan and convert documents to searchable digital files through a single-pass duplex document feeder.
Designed for small print jobs with first-print time as fast as 5.3 seconds.
Cost Efficiency
High-capacity, all-in-one cartridge helps reduce overall supply costs.
Out-of-the-box, standard two-sided printing plus the ability to print multiple pages onto one page helps to reduce paper consumption.